Boursorama Banque does not give competition a chance. The best bank (also the cheapest) in France is offering all newcomers a bonus of up to 130 euros this Black Friday weekend.
Boursorama Banque has made it a habit to reward opening an account with a generous bonus. In the course of 2022, it often fluctuated between 50 and 80 euros. However, the highlight of online banking is this Black Friday, an operation that boosts the welcome bonus.
Throughout the long weekend you can earn XL compensation for opening an account. Boursorama gives you the opportunity to receive 130 euros for this stage. It is a very large amount that is offered without any conditions. Validating the account earns 60 euros and using the EasyMove service earns 70 euros. It doesn't take more to receive it. The code to use is BRSMOV130.
Open a Boursorama bank account
Earn 130 euro bonus for a free account, with no income requirement and no obligations : What else do you want ? Boursorama Banque is almost as flexible as a Revolut, even though it is a real bank. If you feel like it, you can take advantage of all the banking products of the establishment online: bank card, savings and exchange solutions, consumer and real estate loans, insurance, etc.
A bonus of 130 euros, how do you get it?
Nowadays, few banks offer a welcome bonus. The only players in the market that venture into it are online banks. And yet there are few of them. In particular, they often ask for conditions that make it difficult to obtain the welcome bonus (mandatory regular use, proof or direct debit of income, etc.).
The popularity of the Boursorama Banque bonus lies in its simplicity: if you follow the classic procedure to open an account, there is no reason not to receive the full cash bonus. So when an operation of this type happens, it's the jackpot. Online banking logically registers a spike in requests for opening: the French who are looking for good deals have understood that now was the ideal time to open an account.
In fact, this is how you can get the 130 euros announced by the bank: validating your account will earn you 60 euros in cash. Then you will get the other 70 euros back the first time you use the free EasyMove service, so if you follow the normal procedure you will easily get those 130 euros.
Open a Boursorama bank account
At Boursorama Banque, the most popular card in the range is the Ultim. This is equivalent to a Visa Premier (except it doesn't carry the same name) and it's free and with no income requirements. In other words, everyone can benefit from it. This card will only remain free if you use it once a month. This is the only application of online banking.
To facilitate payments with its account, Boursorama Banque relies on mobile payment. It also outperforms the neo-banks (our comparison here) that pride themselves on being the most contemporary. You can use Apple Pay, Google Pay, Samsung Pay, Fitbit Pay, and Garmin Pay. In France no branch is so open. And most importantly, it's free.

Current account
Conditions: No income condition – Welcome and Ultim cards
Annual fee: €0 • First deposit: €300
Check Deposit: ✔ • Cash Deposit: ✘
debit card
Monthly cost of the card: 0 €
Withdrawals in the Eurozone: Free • Payments in the Eurozone: Free
Foreign currency withdrawals: 1.69% • Foreign currency payments: Free
Suggested cards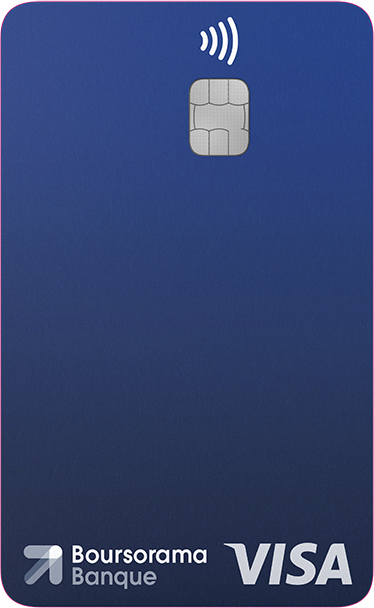 mobile payment
VIEW MORE
1
A sofa according to your wishes
If you are looking for a bank to make payments and withdraw money only, Boursorama is the right choice. If you have capital to grow, Boursorama is also the right choice. If you need a more complete solution with the possibility to take out a loan, internet banking can also give you answers. You can read our full Boursorama review here.
All products are managed independently of the computer or smartphone. If necessary, you can always contact the bank's customer support by telephone. The latter has been on the first step of the Customer Relations Podium for three years now. This is a quality guarantee of a point that online banks scrutinize: without a physical presence, they must be impeccable in terms of customer service.
Boursorama Banque also combines securities for its offering: best bank, cheapest bank etc.. The recognitions fall every year and the competition struggles to position itself. Unsurprisingly, online banking has a huge lead over the runners-up. With over 4 million customers, it is 6x bigger than its first rival Hello bank!.
This flash sale is the best time to open an account during the year. Many even wait for this operation to open their account: the bonus awarded is immense, especially for the service provided to you. If you choose to make Boursorama Banque your main bank account, you will save more than 200 euros in bank charges per year in the long run. An internal survey found that by 2021, more than half of users would have no charges at all.
To take advantage of this Black Friday bonus offer, here it is:
Open a Boursorama bank account
What you need to know about our good plans
This content is brought to you by the experts at JDG.
The editors did not participate in its creation. It is possible that this publication contains an affiliate link: the e-merchant can then pay us a commission (nothing changes for you). The prices mentioned in this article are subject to change.
Similar Posts: